| | |
| --- | --- |
| | SPREADSHEETS are notoriously difficult to validate. Undetected errors have caused large financial losses and expensive litigation. The Spreadsheet Detective provides many features that can reduce errors and aid in model risk management. |
Microsoft Excel Spreadsheet Audit Features
The Spreadsheet Detective can:-
Provide an overview with comprehensive workbook reports, data flow analysis and error detection.
Show which cells have formulas and how they have been copied throughout a model.
Clarify cryptic "A1" references using English AutoNames.
Use a non modal window to describe many aspects of the current cell and formula.

Easily follow complex Workbook Precedent/Dependent relationships.

Compare different spreadsheets with both a succinct report and graphical annotations.

Manage Scenarios, and perform Monte Carlo simulations.

Encrypt sensitive workbooks without any risk of losing the password.
Analyze sensitivity relationships.
Assist with the understanding and manipulation of Named Ranges.
And much more...
In combination these clarify the structure of complex models. They go well beyond Excel's in built auditing features.
Bottom Line — Research
"Spreadsheet Detective is one of the longest established and most comprehensive suites of auditing tools that we have seen. This is not to say that other products may not have features that are not in Spreadsheet Detective or that, in some instances, we might prefer a competitor's implementation of a particular feature but, overall, the product is clearly the market leader, and deservedly so."
Read full extract
.
Compliance Detective — End User Computing Model Risk Management (MRM)

The Compliance Detective can record meta data about spreadsheet models that document their risk profile. It can then produce company wide reports of the models, their risk profile, and when they had formulas (as opposed to data) changed. Rules can be provided as to when formal reviews are required, and the tool can then track who has reviewed them. The Compliance Detective can quickly scan large repositories such as Box.com, and can optionally utilize its own cloud services. It has been used effectively by a large financial services company that has thousands of spreadsheet analysts.
More...
Stress Testing Spreadsheet Models
A key aspect of model risk management is to stress test each model to determine how its predictions will vary based on different assumptions. The Spreadsheet Detective provide an advanced scenario manager that can manage this process, as well as automatically generating different combinations of assumption parameters.
Excel Spreadsheets Risks & Sarbanes-Oxley (SOX)
There is considerable research upon the extent of spreadsheet errors.
Eusprig.org
contains a list of some very public failures, but there are many more that are never reported.
The following is an extract from
The Use of Spreadsheets: Considerations for Section 404 of the Sarbanes-Oxley Act
PricewaterhouseCoopers:-
"Anecdotal evidence suggests that 20% to 40% of spreadsheets have errors, but recent audits of 54 spreadsheets found that 49 (or 91%) had errors, according to research by Raymond R. Panko, a professor at the University of Hawaii."

"The Journal of Property Management stated, "30 to 90 percent of all spreadsheets suffer from at least one major user error. The range in error rates depends on the complexity of the spreadsheet being tested. In addition, none of the tests included spreadsheets with more than 200 line items where the probability of error approaches 100 percent."

"Perform an on line search for spreadsheet errors or spreadsheet audit, and you will find a number of major failures attributed to spreadsheet inaccuracies that hit the press in the past year alone."
The Original Spreadsheet Detective
The Spreadsheet Detective has been revealing modeling errors since 1997. Many features have been added since that time based on extensive customer feedback. Other less established spreadsheet auditing tools may offer some superficially similar features, but they lack the depth and quality of the Spreadsheet Detective.

The Spreadsheet Detective has thousands of active users. Companies with site licenses include:
(Libre/Open Office Calc Detective)
(The Spreadsheet Detective should not be confused with the "Detective" feature in Libre/Open Office Calc which just provides similar features to Excel's in built audit arrows. The Spreadsheet Detective has been available since 1997, and the use of the same name for the Calc feature is unfortunate. Generally, while Calc may be an adequate tool for the casual spreadsheet user, it is not recommended for developing serious quantitative models.)
Pricing and Support
The Detective is priced very reasonably as can be seen on the Price List.

There is also a Free Download available.
Excel versions are supported from Excel 2019 down to Excel 2007, including Office 365. Please direct any questions to the email below. The Spreadsheet Detective is an essential tool when building complex Excel spreadsheets.
E-Mail: info@spreadsheetdetective.com
Southern Cross Software
Queensland Pty Ltd ABN 41 079 368 200
https://www.SpreadsheetDetective.com
Comprehensive Workbook Report
Provides a bird's eye view of complex models by summarizing each worksheet, highlighting potential error conditions, showing data flow between each worksheet, references to external workbooks etc.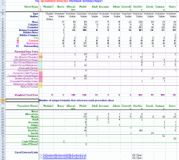 Distinct and Copied Formulas
Cell shading clearly shows which cells have formulas, and how they have (or have not!) been copied throughout a spreadsheet. New bold shading highlights inconsistent formulas on larger models. And the shading is right on the actual model, so that it can be seen while the model is being developed.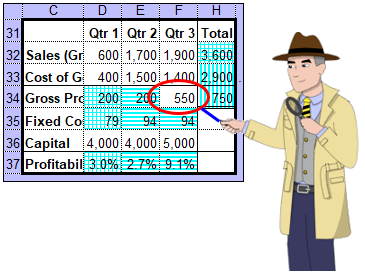 This information can also be shown on a condensed map report. Symbols show how formulas have been copied, and comments show the original formulas. The blue, yellow and red background colors indicate potential errors and issues that have been automatically detected.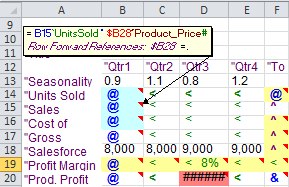 AutoName Non-modal window
Shows the active cell's formula with "English"
AutoNames
that clarify the meanings of the cryptic A1 references. So the cryptic reference $E$26 below can be described with the AutoName
InterestOnCapital
. AutoNames are based on cell labels, so that unlike conventional named ranges they are always up to date as a spreadsheet model evolves.
The dialog is non-modal so it can be constantly displayed to help you while you edit the underlying model. Hyperlinks make it easy navigate to precedents. But more importantly AutoNames let you understand what most A1 references mean without needing to navigate to the precedent cell.
This can also be displayed more fully as a task pane.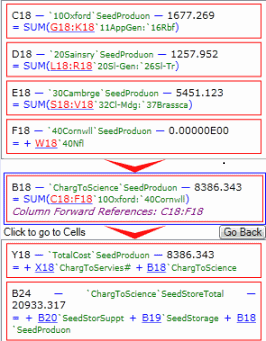 Formula AutoName Report
Provides a complete list of all distinct formulas and named ranges. AutoNames clarify cryptic A1 references.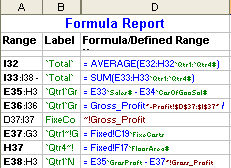 Audit Process Control
Mark formulas as verified, questionable or erroneous. Collate them in a workbook audit status report. Control your communications with the model author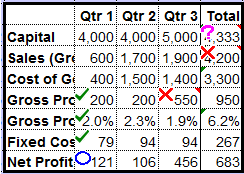 Scenarios and Monte Carlo Simulation
Consider different scenarios or perform full Monte Carlo simulations. Manage uncertainty and avoid the flaw of averages.

Full Graphical Formula Annotations
Completely describes a model by annotating the spreadsheet itself.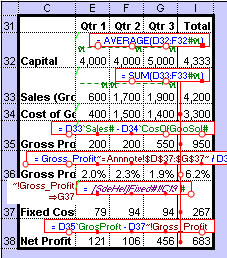 Worksheet Comparison
Clearly shows changes between different versions of a model even if rows or columns have been inserted or deleted. Provides both annotations and a succinct report by unifying changed copies of a formula. Shows which parts of complex formulas have changed. Can also compare different parts of the same worksheet.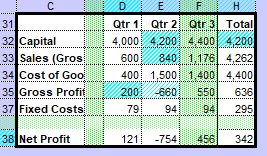 Quick Model Navigator
Quickly navigate to worksheets or named ranges by just typing a few characters from their name.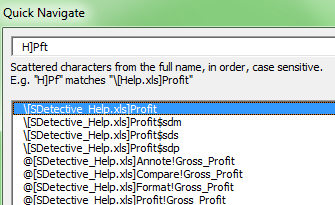 Master Key Encryption
You know you should encrypt your extremely sensitive workbooks, but what if you lose the password? Master key encryption makes protecting your data practical.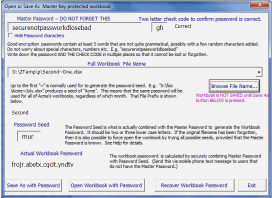 Precedents & Dependents Reports
Provide a detailed outline report to see where values is comming from and where they are going.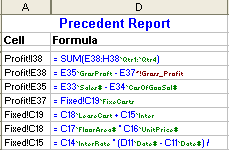 Workbook Discovery
Discover where your spreadsheet models are, and what other models link to them.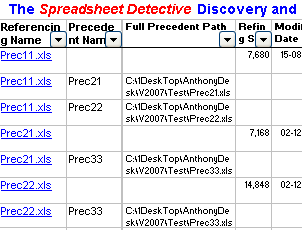 Sensitivity Analysis
Obtain a new perspective by examining each formula's sensitivity.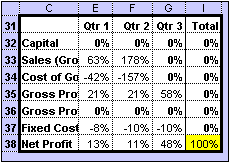 Named Range Dialog
View and edit named ranges, easily verifiy their definitions and automatically update the formulas that use them.